DEFIANCE PITCHING CAMP ANNOUNCED
The Defiance High School coaching staff will be conducting a pitching and catching camp on Tuesdays throughout the month of September. The camp will be held at Defiance High School on September 6, 13, 20, and 27 from 6-8 p.m.

Registration forms can be downloaded in the HANDOUTS section of our website. The cost of the camp is $60 and is limited to the first 50 pitchers and the first 15 catchers. Download your form today and return it along with your fee ASAP.
The River Bandits squared off against a group of our alumni at Napoleon High School on Wednesday, July 27. In what proved to be a shocker, Coach Scwhab and his ALL Stars defeated the Bandits 2-0 in seven innings. At the conclusion of the game Coach Bachman initiated his second protest within seven days arguing that Coach Schwab may be involved in a performance enhancing drug scandal. His suspicions were sparked by Coach Scwhab's two hit, two RBI performance. He tops off his stellar day at the plate with a diving catch in centerfield. This alone would provoke suspicions within anyone who knows anything about talent. We can only ask ourselves where all of this came from and where was it three years ago? Verrrrrry suspicious if you ask me.
Again, results of this game will not be finalized until all test results have been submitted to team officials (Coach Bachman), and I would highly suspect that he will win this protest. This would be his first win in this category this year for those keeping track. He has been nominated twice, but his first attempt didn't go quite as planned.
By the way........ I still need your protest fee submitted immediately. You can make that check out to your assistant coaches please.



The Bandits downed the Mudslide Marauders 15-7 at Napoleon High School. This contest, which was billed as one of the biggest grudge matches of the season proved to be just another win for the Bandits. The alumni team captained by Eric "Mudslide" Schwab was soundly defeated and never really threatened at anytime throughout the entire seven inning contest.
We would like to thank each player who came out last night. It really was fun seeing those of you who have played for us in the past. Thanks again and don't forget....... THE MUDSLIDES ARE ON SCHWABBY TONIGHT!
Napoleon Post 300 captures the district one championship by defeating Whitehouse 6-3 in the final played at Bowling Green State University. Napoleon now advances to Ohio State Tournament play at Ohio University in Athens, Ohio. Make sure to check the website for game times to be announced, as well as, all scores from Athens.

Congratulations also goes to Whitehouse who were this year's district runners-up. They provided us with some fantastic competition and a very memorable 2004 district tournament.

Also, special thanks to Whitehouse coach Dave Whitmire and Bowling Green State University for allowing our kids the opportunity to play at their facility.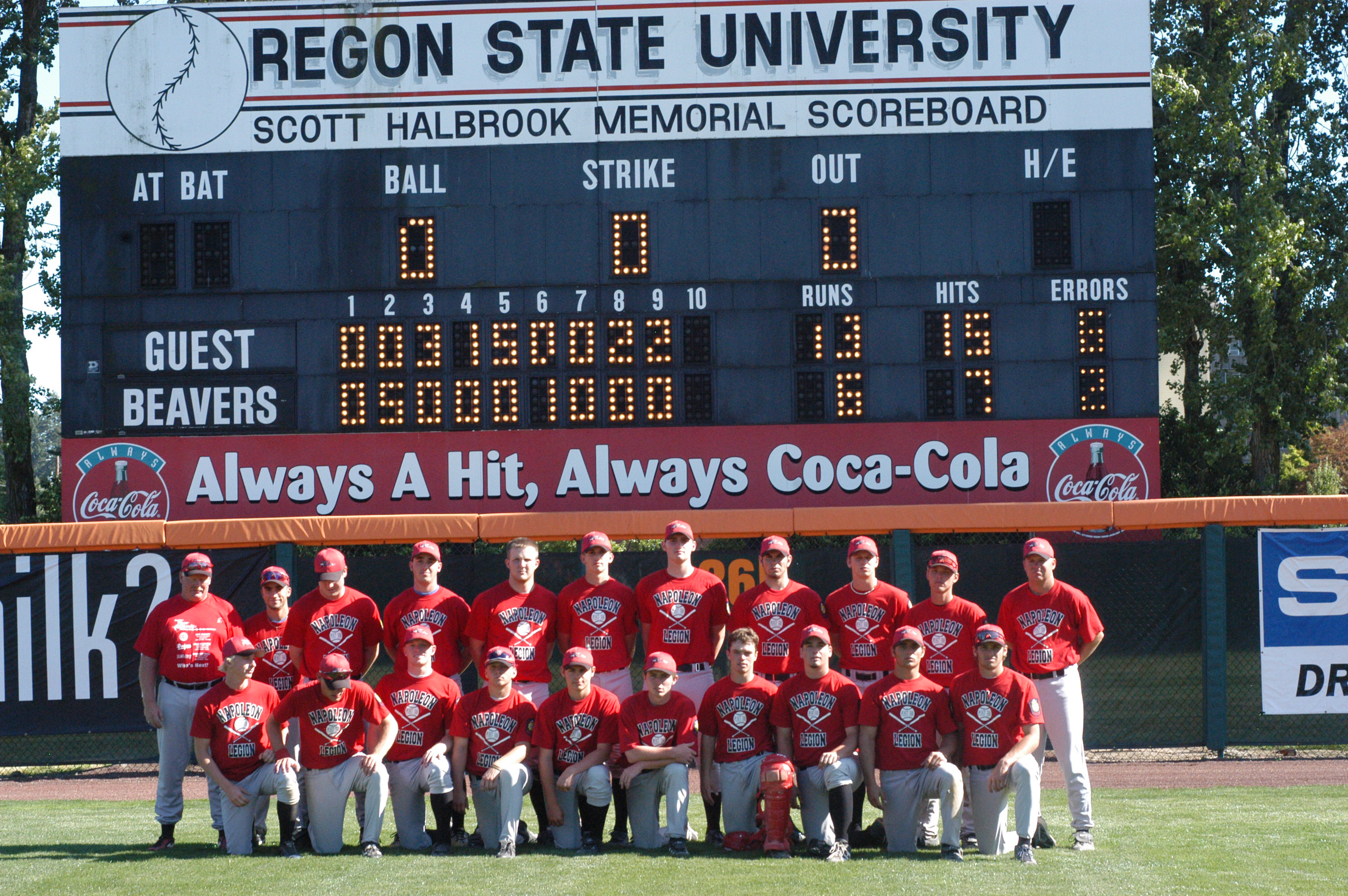 The River Bandits captured the 2004 Indiana Connie Mack State title on Sunday, July 18 at Carroll High School in Ft. Wayne, Indiana. The Bandits won the semi-final game 8-0 over the Ft. Wayne Seminoles and captured the championship by defeating LaMargarita 11-2. This marks the second Connie Mack title in the last three years for Napoleon.
 
CONGRATS TO ALL PLAYERS AND COACHES!!